Is Your Company Cyber Resilient?
NetMinded simplifies your IT environment while reducing downtime and safeguarding your IT assets and data with our proven formula.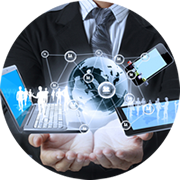 Our Formula: IT Pros + Robust Tools + Customer Centric Attitude = Security, Uptime and Peace of Mind. You can focus on managing your business and leave the IT to the Pros!
We do not provide canned service offerings like other service providers. Every client we take on starts with an assessment and security analysis. Every business has a unique requirement. We only move forward with a client if we are 100% certain that we will provide value and meet expectations. Our approach ensures that we are providing the best ROI on your service agreement and you pay only for what you need!
How does a managed service contract save me money?
What would happen to your business if your network was down for a day? When you're entire IT environment is monitored 24x7x365 with regularly scheduled maintenance and reporting, you don't have to worry about something happening that leaves your systems unusable. You save significant amounts of time and as we all know, time is money.
Have you heard of ransomware? The right security measures, including anti-virus software, web-content filtering software, and firewalls, will be put in place to protect your company, as well as any personal data of yours, safe against attackers looking to drain bank accounts, steal identities, and tarnish reputations. Managed IT services give you peace of mind.
Are you looking for a fixed monthly IT budget? By leveraging managed IT services, you're paying a flat-rate monthly rate for everything IT-related you need. That means you're able to budget accurately knowing exactly what you need to pay each month, in order to avoid surprise expenses that are common with a break/fix model of support.
Want to turn your technology systems into a competitive edge? Don't lose the ability to get things done when your systems go down. Managed IT services keep your technology running at peak performance so you never lose money to repair issues or wait until issues are resolved to get back to work.
Here are some of our services.  Don't see what you need?  Just ask us!
Network Monitoring and Management

Endpoint Monitoring and Maintenance

Email Management Services

Shared Threat Analysis
Backup and Storage Management

Network Discovery and Assessment

Policy Enforcement

Optimization and Quality of Service Reporting
Firewall and Intrusion Prevention System (IPS) Monitoring and Management

Antivirus Scanning

Patch Management

Voice/Video Traffic Management
Technology
World class Remote Monitoring & Management (RMM) software is at the heart of our platform.
Support Center
U.S. based Network Operation Center (NOC) with 24x7x365 help desk. Have a problem? Call us!
Monitoring
We are always monitoring your network, traffic, security and performance allowing our team to provide proactive support.
Escalation
If we detect an issue we will escalate to our Level 2 technicians before they get a chance to cause problems for your systems and staff.
Management
Documented procedure for auditing IT assets along with automated reporting of our findings.
Maintenance:
We handle the day to day maintenance required to keep your IT environment running smoothly.
Reporting:
Detailed monthly report that includes everything you want to know in a clean easy to follow format.
IT Meetings:
We will schedule an IT review to discuss your environment, let us know how we are doing and plan for changes in your business. We can do this at your place, our place or via web conferencing.
Planning:
Weather your adding people, retiring old equipment or just need some advice, NetMinded has your back. Let our team help you plan your next project.
Talk to a NetMinded Technology Adviser Today!
Let NetMinded become your IT partner. Leverage our IT Pros to take your business to the next level. Contact us today!